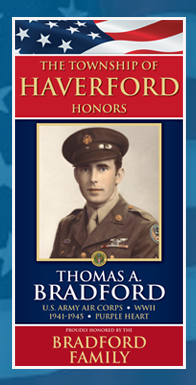 Heroes of Haverford Township Banner
It is the intention of Haverford Township to honor those who have served our country in the armed forces. All Active Duty or Veterans are honored with a sponsored banner proudly displayed on our Township's major thoroughfares. Each banner is unique and includes a picture of the service member, the branch in which they served, period of service, recognition of any awards and the name of the sponsor. The sponsor will receive an 8x10 print of the banner as token of thanks for their sponsorship.
The banners are 24 by 48 inches and are displayed throughout Haverford Township.
Banners will be displayed for at least a full calendar year and will be returned to the sponsor as requested.
The cost of sponsorship for is $125.00 for each 24" x 48" banner. The sponsor or sponsoring agency's name will appear on the bottom of the banner.
Sponsorships are available at the Haverford Township Municipal Building or online
Sponsorships will be accepted continuously and banners will be ordered on the first and fifteenth of the month.
Sponsorships mailed to or submitted at the Township building will only be processed with a fully completed form, photo, and payment (if applicable)**.
Sponsorships mailed to the Township will have the photo returned to the sending address.
If emailing a photograph please scan at 600 dpi and send as a jpeg file.
The photo can be scanned at the Township Building during business hours.
Payment can be made in person or mailed to the Township at:
Heroes of Havertown Finance Department Haverford Township Municipal Services Building 1014 Darby Rd., Havertown, Pa. 19083
- Cash (at Twp. building only, please do not mail cash)
- Check or money order (mailed)
- Credit Card (at Twp. building)
At the end of the banners service life, the banner will be made available to the sponsor to keep. Businesses or civic organizations may sponsor a banner for a particular veteran by filling out the sponsorship section of the form and the business or civic organization's name will appear as the sponsor.
Contributions toward the program will also be accepted. If available, willing sponsors with no veteran can be matched with a veteran whose family may not have the means to participate on their own.
Please note any awards or such as Purple Heart, Silver Star, or Bronze Star as notation will be included on the banner. To confirm an award or service details the veteran's DD214 form can be accessed at https://www.archives.gov/veterans/military-service-records
Placement of banners will be at the sole discretion of the Township.
** Please Note: Those Killed in Action, Missing in Action, POW, and Congressional Medal of Honor winners will be honored free of charge.