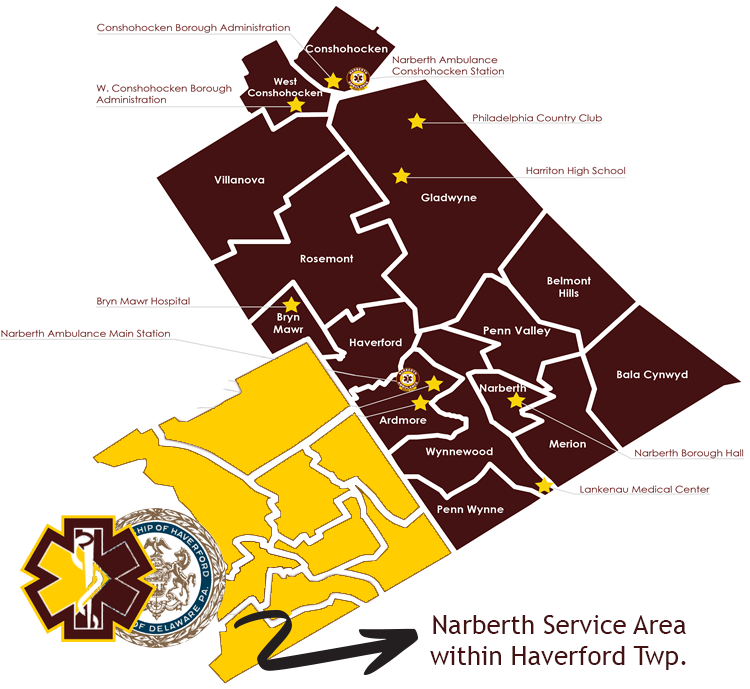 Haverford Township EMS Provider
Narberth Ambluance
In 2016 the Township of Haverford contracted with Narberth Ambulance to provide 911 EMS coverage to its residents.
Narberth Ambulance is a 501(c)(3) entity designed to serve the emergency medical needs of several local municipalities including Haverford Township.
The staff of Narberth Ambulance includes over 30 full time and 40 part time employees and over 70 volunteers. They respond to over 10,000 annual calls to the residents of Lower Merion, Narberth, Haverford, Conshohocken & West Conshohocken.
With over 3,500 annual ambulance service requests, 2 stations with 24-hour coverage were created to provide timely response and proper allocation of the resources within the Township.
All residual billing for services not covered by insurance, Medicare or Medicaid are billed by Narberth Ambulance. If any resident has a question or concern, please contact Narberth directly at 610-645-7770
Narberth Ambulance Sub Stations in Haverford Township:
The Quatrani Building, 2325 Darby Road, Havertown PA 19083
Haverford College, 370 Lancaster Ave, Haverford PA 19041
website: www.narberthambulance.org
Roles of Haverford Township EMS Administration
While the Township currently relies on Narberth Ambulance Corps for day to day 911 EMS services it also maintains its own Pennsylvania Department of Health Advanced Life Support License. This license allows for the Township's EMS Director and Deputy Director to operate ALS Responder (SUV) vehicles, provide incident command at large events, catastrophes and a host of other situations that stress our emergency resources. This license also allows for the Township's core group of Tactical Paramedics to integrate with the Township's police department.
If any Township resident, visitor or business has any questions including quality of care, we encourage them to contact this department at 610-446-1000.
Contact Information
Chief James P. McCans MS, NR-P, FP-C | Director of EMS | Ext. #2222 | email: JMcCans@HAVTWP.ORG
Deputy Chief Victor M. Berg EMT-P | Deputy Director of EMS | Ext. #2223 | email: VBerg@haverfordtownship.org