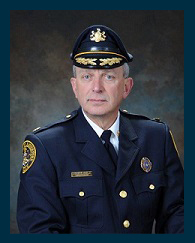 Chief's Message
I am pleased to welcome you to the Haverford Township Police Department's website. Our entire police force is dedicated to serving and protecting all citizens with respect and professionalism.
Haverford Township Police Department offers a full range of services 24/7, including patrol, traffic, criminal investigations, community policing, motorcycles, bicycles, SWAT and records.
Through this site, I hope that you become familiar with our services and Haverford Township.
I take great pride in being the Chief of Police of such an outstanding Police Department.
Thank You,
John F Viola
Chief of Police